Freedom Fest 2018!
The biggest Independence Day Celebration is back! Join the Greater Darlington Chamber of Commerce for our 5th annual Freedom Fest at Darlington Raceway presented by the City of Darlington!
The event will include food and beverage vendors, merchandise vendors, kids carnival, live music, and FIREWORKS all at the track Too Tough To Tame. The event will start at 5 PM; fireworks will begin around 9:30 PM.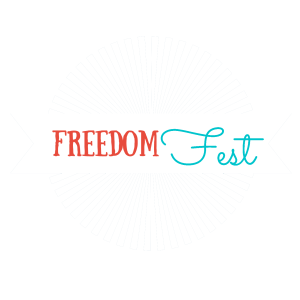 June 30, 2018
Presented by The City of Darlington, Darlington County, and the Greater Darlington Chamber of Commerce
Thank you to our sponsors!
Presenting Sponsors:
City of Darlington and Darlington County
Armed Forces Sponsor:
Community Broadcasters
Amusement Ride Sponsor:
Manheim Darlington
Community Sponsor:
McLeod Health
Raines Hospitality
All- American Sponsor:
Duke Energy
SPC Credit Union
Wilson Senior Care
Car Show Sponsor:
Raceway Automotive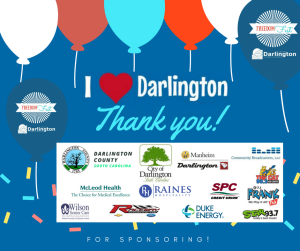 Freedom Fest Cruise-In
The Greater Darlington Chamber invites you to show off your car, truck, or motorcycle at Freedom Fest! Entrants will "Cruise-In" and park their vehicles on legendary pit road at Darlington Raceway. Registration forms will be taken at the event, but registrants are encouraged to return this completed form to the chamber in advance.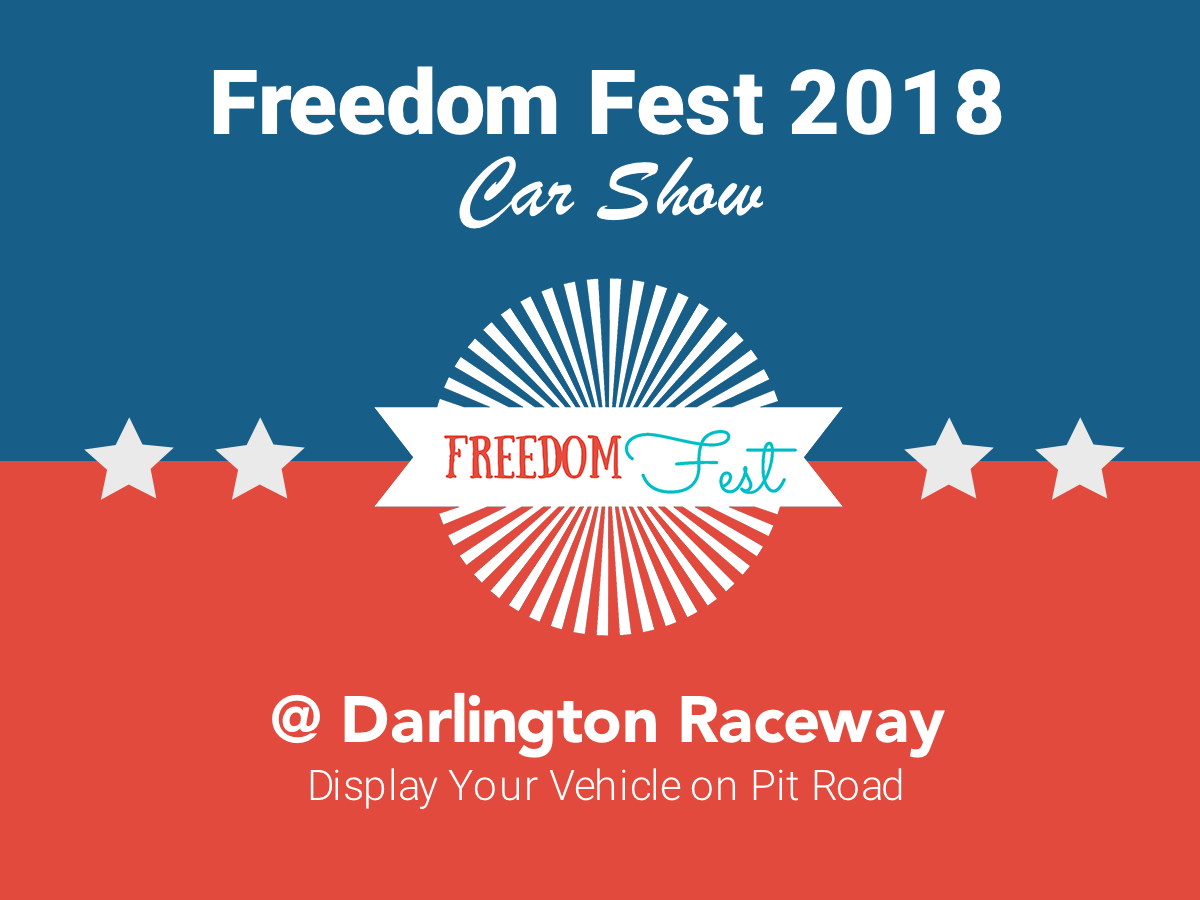 Vendors
The Greater Darlington Chamber has a great list of vendors lined up for this year's Freedom Fest. There is something everyone will love!
Food Vendors:
Kona Ice
The Front Porch Churn
Timmons Concessions
Tropical Paradise
Mini Donuts
Mike's Italian Ice
Tay Chip Concessions
Shuco Enterprises
Sandhill Concessions
Ashley's Yummy Tummy
University of BBQ
Papa John's
Gripps Grills
Lil Doug's Polar Express
Ja'Mazin' Street Eats
Erica's
Sweet Krave
Little Jimmie
Merchandise Vendors:
Paparazzi Jewelry
Carolina Novelties
LuLaRoe
Kat's Face Painting
Name Rings
PuckerButt Pepper Company
Rainbow
Pinson Novelties
Damsel in Defense
Chadwick's Naturals
Information and Non-Profit Vendors:
South Carolina National Guard
The Ride Home
Red Cross
CPI Security
Darlington County Humane Society
Florence Darlington Technical College
Subscribe for news & information, events, and chamber updates.