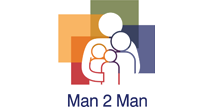 Dads Make a Difference. And yet, too many dads today are not involved in their children's lives. Not because they do not want to be involved but things have simply gone wrong. Relationships with their children's mother have become strained, jobs have fail, and life has gotten complicated and disappointing. Too often, fathers missed the best instructor of all: their own fathers as a positive role model.
Man 2 Man is here to help because we care about fathers and their families. Man 2 Man is the only non-profit with more than ten years of experience in the Pee Dee region whose sole mission is to help fathers overcome the barriers to being a responsible and involved father. We are located in Bennettsville, SC. We serve fathers from Marlboro and surrounding counties including Chesterfield, Darlington, Florence, Dillon and Marion.
Our staff understands fathers and families and is among some of the most experienced and knowledgeable fatherhood practitioners in our state. We served 173 fathers in 2010 and that number has nearly doubled to 384 in 2011.
In addition to supporting fathers and families, we are a resource to businesses seeking employees ready-to-work and community organizations who want to learn more about father absence and engaging fathers.
Our program is sustained through the generous support of community organizations and individuals and government partnerships. We are a part of a network of fatherhood programs reaching all across the state which is supported and coordinated by the South Carolina Center for Fathers and Families. Collectively the Man 2 Man program and our peer fatherhood programs serve more than 1200 fathers annually.
Categories: Community Organization, Nonprofit